Micro Markets are unattended retail environments where consumers can engage with products on shelves and in open coolers, allowing them to pick up products, review nutrition information, and more. Consumers use a self-checkout kiosk with a cashless payments system, and pay by credit card, company card or even by thumbprint!
Why Does a Micro Market Make Sense for your business?
Common area to socialize with peers
Ability to stay on-site for meals & breaks
Unlimited product selection available 24/7
Increased employee productivity
Ability to offer an array of products similar to a canteen offering without the costs of a canteen.
Recruiting tool- By offering the most innovative breakroom technology it will give you a point-of-difference from your competition.
Enter the Micro Market
Shop for the product(s) that you would like to purchase
Take your item to the self-checkout kiosk
Scan
Pay
Go
98% vs 2%
Theft Control Methods

CCTV Camera

Focused only on the physical market

32M Red X
Cooler Lock System
If no cameras- we understand 2%, can we work out a subsidy for anything beyond.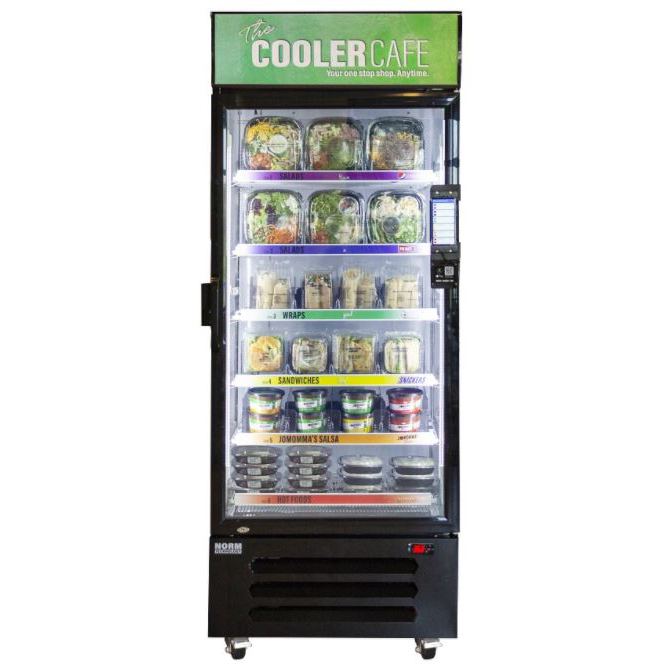 34″ Norm Tech Hybrid Cooler Cafe
Leave your contact
details and we'll call you back as soon as possible
Learn how vending machines can help your business improve productivity, boost staff morale and even earn you a revenue stream.